Home >> About us >> Company profile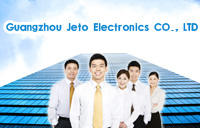 Guangzhou Jeto Electronics CO., LTD as a domestic professional DC/DC power module manufacturer, has been committed to research, development and production of various technical grade high efficiency DC/DC power modules. Our company specialize in 50 w the following small power DC/DC converter. Compared with domestic similar product, and it is characterized by small volume, big power density, high efficiency and high reliability etc. The same pin mode accords with the international standard, and the world many famous brand of DC/DC converter pin compatible.

This product adopts high performance ceramic thick-film circuit, choose famous brand electronic components and magnetic materials (such as: IR, TDK, AVX, MURATA, FERROXCUBE) and advanced SMT packaging technology. Product heat design and strong cold and hot impact experiment, coupled with advanced manufacturing technology, and monitoring technology and ERP management method, and strictly follow the ISO9000 production management process, make product volume smaller, performance stronger and has higher reliability, completely conform to the industrial standard.

The extension electronic not only pay attention to the high quality product development and production, but also pays great attention to the product the pre-sale and after-sale technical service. The company introduces CRM customer management software, the product after-sales service provides better power, and thoroughly resolve customer extra worries. Our aim is: customer satisfaction is our biggest wish!

The company product mainly has the following several series:

1. Constant voltage input isolation uncontrolled source.
2. Constant voltage output isolation voltage output.
3. Wide voltage input not isolation voltage output.
4. Wide voltage input isolation voltage output.
5. Ac voltage input isolation voltage output.

If you need more detailed understanding of the company's products and the latest product information, please call: 020-28998945.